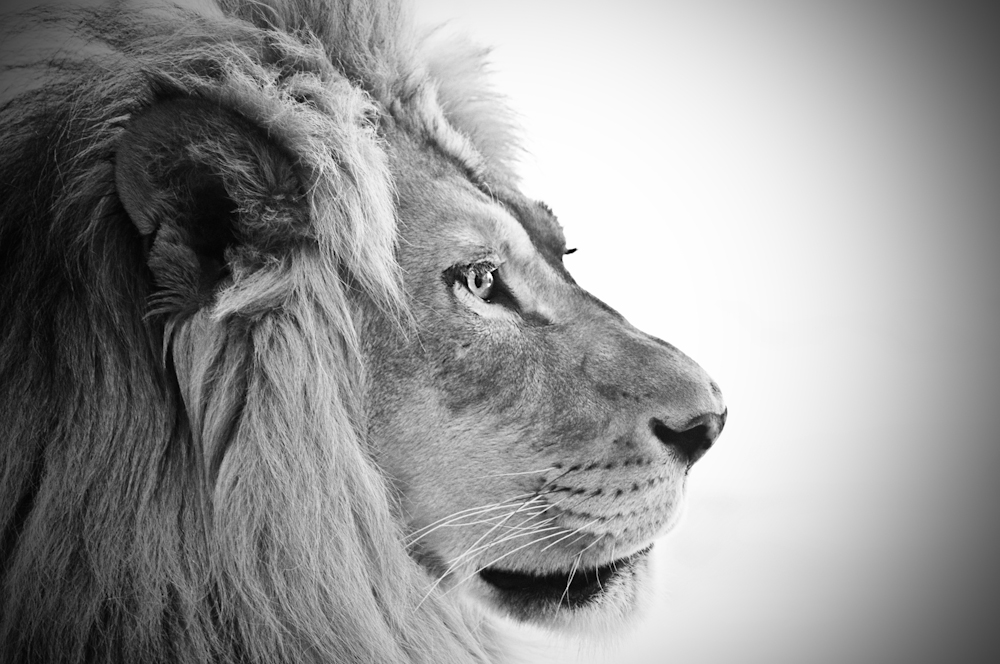 The lion has always seemed like the most confident animal in the zoo to me. He stands there all majestic and regal-looking, smugly bearing his royal title. He eats when he wants, he sleeps as much as he wants, he paces where he wants, he roars as loudly as he wants. He occupies the zoo's most prime real estate, often just inside the main entrance, not hidden in the back with the aardvarks, bats, or camels. He does, by all appearances, seem to have it all.
But I wonder: does the lion actually feel confident? Or does he just appear confident? Does he have those days when he feels like he just isn't quite "enough?" Does he wish he could be sleek and slender like the cheetah?  Or more entertaining like the monkeys? More communicative like the gorillas? Or maybe taller like the giraffes?
There are days when everything seems to float along relatively easily, with confidence, and the jigsaw puzzle of roles that I play fit into place rather neatly.
Then there are days when it seems like the pieces just don't want to fit, regardless of which way they are turned, days when getting them to fit seems so challenging, so exhausting, so draining that I am brought to my knees in desperation.
There are days when I feel fairly competent as a mother, my kids seem happy, healthy, and fairly well-adjusted. And then we will have one of "those" days – days when the bickering and whining are incessant. Days when I am convinced that my three-year-old will never be potty-trained. Days filled with injuries, too much yelling, and lots of doubts. Days when I read about self-assured parents who embrace their kids' idiosyncrasies and differences with grace and poise, instead of doubt and fear like I do.
And I am punched in the gut, breathless, by the anxiety of it all. How does everyone else do it?
There are days when I feel like I am relatively fit and healthy, exercising daily and watching what I eat. But then there are "th0se" days. Days when all I can see are oh-so-stylish moms dropping off their kids at school and photos of celebrities with rock-hard abs just weeks after giving birth.
And what was left of my confidence is deflated like a popped balloon. How does everyone else do it?
There are days when I feel like I am making progress professionally, as well – I am doing more freelance writing work than ever before, am publishing articles at Huffington Post, syndicated a post on BlogHer, and am getting new followers. And then there are "those" days. Days when a client will complain about a project or a post will generate a string of particularly nasty comments. Another writer's book becomes a bestseller while I am still struggling to find a publisher for mine. Or, try as I might, it becomes clear that I will never penetrate the in-crowd of certain blogging circles.
And there is nothing I can do except pull the covers over my head, curl into a ball, and sob. How does everyone else do it?
Since we don't live in a bubble or make decisions in a vacuum, it would impossible not to compare myself to others and a mistake not to look to others for inspiration, motivation, knowledge, and advice. But as Eleanor Roosevelt said, "No one can make you feel inferior without your consent." Perhaps the confidence blows do not come as a result of looking to other people, however, but in the failure to look to the right people. People that inspire and motivate without intimidation. People that respect my unique gifts and talents, but also help me to improve. People with helpful information, who unselfishly share the knowledge that I actually need, rather than the information that serves their purposes.
Maybe the problem lies not only in expecting too much of myself, but also in expecting too much of other people by creating a fictional, idealized person in my mind and then measuring myself up to that wholly unrealistic person, checking off all the ways that I fall short, that I am not enough. As my friend Missy at Literal Mom recently wrote, "the truth is no one can be all…things at once. The quality of one…will most certainly suffer when [a person] tries to do too many things."
So how can we find a way to maintain confidence, while striving to improve and achieve our goals?
The short answer is: I have no f***ing clue.
I have written about this topic before here, here, and here. Yet, despite these public (and personal) pep talks, I still struggle to find a balance between contentment and confidence on the one hand, and ambition and motivation on the other hand.
One of the few things that I have learned, however, is that I don't seem to be alone in this struggle. Maybe we are all just trying to be the best that we can be, to live a life filled with meaning, to achieve our wildest dreams – and experience satisfaction, joy, and confidence while we work to accomplish those feats.
Is that too much to ask? I don't think that it is.
But figuring out how to do it? Now, that is the hard part.
Maybe I'll make a trip to the zoo and ask the lion.
How do you maintain a healthy level of confidence and satisfaction, without losing inspiration, ambition, and motivation?
On a separate note, I have been experimenting with a number of different writing styles on this blog – freeform poetry, personal essay, argumentative essay, and fiction, to name a few – and I would love to hear your thoughts on which styles you prefer, as well as feedback on ways to improve each of them. You can leave your thoughts in the comment section below, or you can contact me here.
This post is also part of the weekly Photo Inspiration Challenge.  Special thanks to Angie McMonigal Photography for her fabulous photos.  Make sure to visit her website or Facebook page.