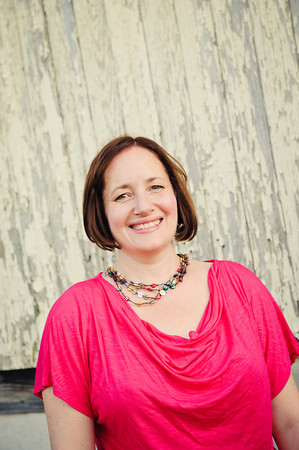 I am so happy to welcome Shawn Ledington Fink, author of The Playful Family and the Thinking Mama behind Awesomely Awake who is changing the world — one family at a time. She is a peace and kindness spreader and offers an e-course called The Abundant Mama Project that leads women into a daily gratitude practice. You can follow Shawn on her Blog or find her on Pinterest, Facebook and Twitter. I am thrilled that she joins us here today as part of the "Stepping Out of My Comfort Zone" series to talk about making a major career transition.

********
Taking that first step onto a new path can be so terrifying.
For years, I had a sense of being on the verge of something. Always on the verge … but never really knew what it was, never really able to grasp it with my fingertips. I kept searching and digging.
I kept hoping that one day the path would reveal itself to me — telling me which way to go.
And then, while working in a lonely, unfulfilling job, I started a blog.
I kind of new what I was doing. I had blogged before. I knew I wanted to make writing online my business, my career, my livelihood but what
I didn't know was if I had it in me.
Within a month, I had a thousand visitors a month.
Within three months, a thousand fans on Facebook.
And I followed the tugs of the Universe.
So, late last month, I stepped out and became self-employed as a writer and mentor for mamas hoping to find their happy place all while raising thriving children.
This was not a tiny transition. This was going from 100 mph working in government and politics and a very high profile position in my town to shedding everything I had become known for over the last five years.
And returning to my authentic self.
The feeling when I walked out of my office and stepped foot on the ground was memorable — and scary.
I tasted freedom on my tongue and it tasted very good.
Like I was suddenly in charge of my own destiny.
Like my wings were full and the sky cracked wide open, just for me.
To be honest, I started preparing years ago for this transformation — when I realized that the ideal job I had wasn't ideal at all — that I sorely missed the creative, challenging career I was used to as a writer.
When I figured that out, I began writing Awesomely Awake blog posts week after week. And that led to a book, which led to some e-courses … and the story wrote itself.
The universe led me along.
Life became a fast moving machine that would have been hard to pause.
It feels great to own something that's all mine. Something that's changing the world — one family at a time. And I'm doing it on my own time while I am able to be there fully for my daughters after school and all summer.
I've come full circle — finally doing what had been calling me for so many years.
I finally stepped into my own power and found the path to authenticity.