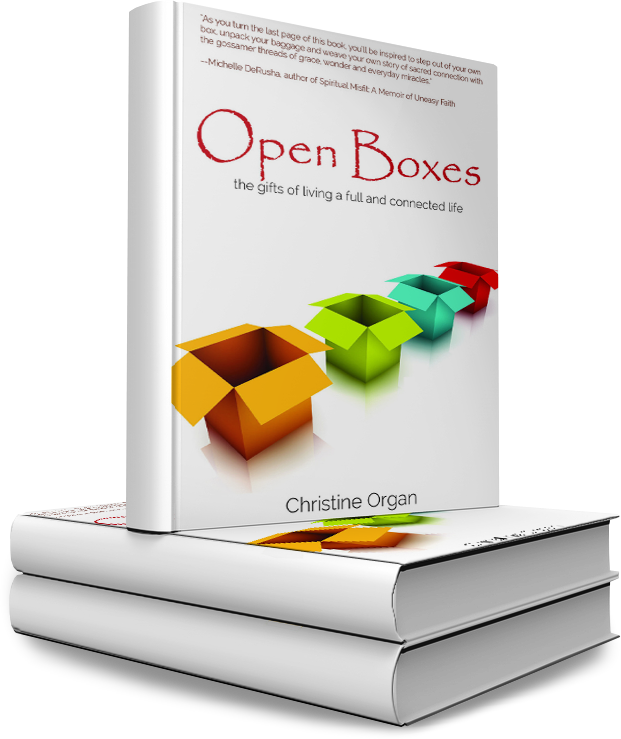 Writing a book is often compared to having a baby, and if we are going to make that analogy, then I am definitely about ready to pop. I've toured the hospital and prepped the nursery. I've lined the shelves with blankets and bottles and onesies. All that's left now is to wait for the baby – er, book – to arrive.
For those of you who are wondering, the due date for my book – Open Boxes: the gifts of living a full and connected life – is December 8, 2014. Though, as we all know, babies and books sometimes have a mind of their own.
More than the usual 9 months for a baby, this book has been years in the making and I can't thank you enough for your continued support. But I need to ask you one more favor….Books don't sell themselves and I NEED YOUR HELP. There are several things you can do, including things like:
Pre-ordering the book for yourself (or maybe as a gift for someone too)
Purchasing the book from Amazon or BN.com when it is released on December 8
Spreading the word via Facebook, Twitter, Pinterest, and other social media (#livefullyconnectdeeply)
Forwarding this information to anyone who might be interested
Contacting your local bookstore after the book is released and requesting that they carry a copy
Leaving a review on Amazon and Goodreads after you've read the book
If you're a blogger, writing a review ofOpen Boxes on your own website
Attending the book launch party in January 2015 (more info to come)
Just like people want to know if you're having a boy or a girl when you are expecting, people often ask what Open Boxes is about. Well, as the title says, it is a collection of stories about living a full and connected life, but it is also about celebrating the sacred and extraordinary moments of our everyday lives. Some of you might recognize a couple of expanded versions of favorite blog posts, but most of the book contains new stories about everything from spirituality and parenting, to self-acceptance and friendship. As the back of the book says, "Open Boxes is filled with stories of comfort, struggle, heartache, joy, insight, compassion, resilience, and redemption. Like a cup of coffee with a good friend, the stories will soothe and inspire, uplift and motivate, entertain and encourage."
So grab a cup of coffee (or maybe a glass of wine or a scotch if it has been one of those kinds of days), settle in, and let's open some boxes, weave a few threads, and revel in this crazy thing called Life.