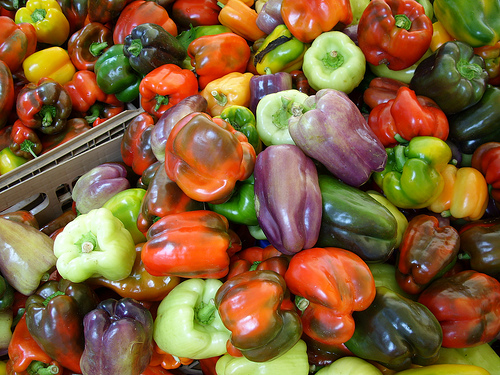 Summer has arrived in full fashion.   There are so many wonderful things about summer, and just one of them is all of the healthy, fresh food options that are literally sprouting up all around us.  Farmer's markets are in full swing across the country, making it all the easier to stock up on healthful fare. But with all of the variety it offers, the farmer's market can also be a bit intimidating and overwhelming.  I have a post at Urban Times today with 10 tips for navigating the farmer's market.  The following is an excerpt, but you can read the full post here:
"A rainbow of sights, sounds, and smells titillate the senses, inspire the tastebuds, and sometimes overwhelm the mind. A farmer's market can be a veritable treasure trove of fresh, organic fare, but it can also be an overwhelming morass of tempting, and perhaps unfamiliar, food assortments. Making the sheer volume of options all the more noticeable is the fact that our pocketbooks often lack the abundance that the farmer's market proudly displays.
But there is a way to conquer the farmer's market and take advantage of its copious healthful options. By following 10 simple steps, you too can master the farmer's market. With a little patience, education, and experimentation, you can rest confidently in the knowledge that you are supporting your community, improving your health, reducing your carbon footprint, and enjoying the best the season has to offer. And nothing tastes sweeter than that."
Not only do farmer's markets provide a wonderful opportunity to eat healthy, but they also give us a chance to expand our culinary skills and gastronomic repertoire.  Some of my favorite farmers market finds are sugar snap peas, blackberries, and green tomatoes.  You can find a local farmer's market near you by following this link.
If you happen to ever find yourself in the Madison, Wisconsin area, make sure to check out my favorite farmer's market – the Dane Country Farmer's Market which lines the streets around the Wisconsin State Capitol. And don't leave without picking up some Hot & Spicy Cheese Bread from Stella's Bakery.  After stocking up on all the healthy fruits and vegetables, you deserve it. It is simply divine.