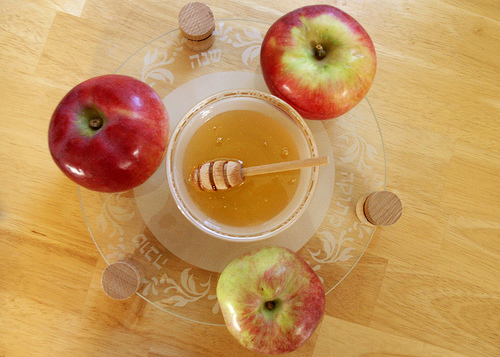 L'Shanah Tovah!
Today marks the second day of Rosh Hoshanah celebrations in the Jewish tradition. For those other non-Jews out there who might not be familiar with Rosh Hashanah, it is the Jewish New Year that marks the beginning of the High Holy Days. Beginning at sundown yesterday, the holiday continues until nightfall on Tuesday. Rosh Hashanah kicks off the Ten Days of Awe, which concludes with Yom Kippur, the "day of atonement."
An intensely reverent religious holiday, Rosh Hashanah traditions focus on introspection, accountability, and respect – something that we all can appreciate, regardless of religious affiliation. Whether gentile or Jew, theist or atheist, Muslim or Buddhist, Rosh Hashanah offers something for us all. Its solemn reverence reminds us of the importance of acknowledging and respecting the impact that our actions and inactions can have on others. And its joyful celebration remind us to enjoy the sweetness and harmony of our existence.
Here are five ways in which I am incorporating Rosh Hashanah traditions into my spiritual life this year.
1. Music as a spiritual practice. Rosh Hashanah celebrations begin with the sounding of the shofar, a long horn-shaped instrument that is typically made from a ram's horn. The shofar sounds similar to a harsh, slightly off-key trumpet. The sounding of the shofar is intended to awaken the soul so that one can focus on introspection and atonement.
Regardless of whether one listens to the blast of the shofar, a slow hymn or a rousing gospel song, music has the ability to touch a divine place within us. Music bridges the gap between the secular and sacred. Like the German-Jewish poet Berthold Auerbach said, "Music washes away from the soul the dust of everyday life." I have written about the importance of music to my spirituality recently, as a means of empathizing with sorrows, enhancing happiness, and invoking transcendence. So today, I think that I might play my Spiritual Soundtrack on a repeat loop – a loud repeat loop, in fact, since my soul has had a tendency to push the snooze button lately.
2. Sacred and celebratory meal. Rosh Hashanah celebrations typically include festive meals, as well. The meals include apples dipped in honey (to represent hope), challah (a braided round bread that symbolizes the continuity of life), and other sweet foods in anticipation of the sweet year to come.
While I am not commemorating the holiday with a traditional seudat mitzvah (festive meal), I am gathering tonight with the dear friends that are part of my spirituality group. Although our get-togethers do not center on prayer or spiritual practice, our friendship and camaraderie stresses the importance of introspection and accountability, both of which are particularly appropriate for Rosh Hashanah. As I prepare to welcome these beloved friends into my home, I plan to focus less on my the disheveled state of my house and the less-than-gourmet meal I will serve (fajitas!), and focus more on the loving and intentional preparation of food along with an extension of warm hospitality.
3.     Surrender to our humanity. Some Jews follow a custom called tashlich, or "casting off." During tashlich, Jews will gather at a river or stream to recite prayers, reflect upon their sins, and symbolically set them free into the water. Regardless of specific religious affiliation, the customs of tashlich remind us of the importance of not only acknowledging our mistakes, but of letting go of the guilt and shame associated with our mistakes as well.
4. Candid introspection. In the Jewish tradition, Rosh Hashanah is the Day of Judgment – the day on which it is believed that God determines the fate of every person for the year to come. Final determination is made on Yom Kippur, which is the Day of Atonement. During the Ten Days of Awe between Rosh Hashanah and Yom Kippur, Jews reflect upon their actions over the previous year and seek forgiveness with the hope of receiving a favorable judgment.
I certainly do not believe in a vengeful or judgmental God, but I do believe in the powerful sacred benefits of personal and honest introspection. The ways in which I have failed others in the past year are plentiful. But it does me little good if I merely deny my shortcomings or ruminate on my failures and mistakes. What is helpful, however, is to take heed of particular patterns of weakness in my behavior, to hold myself accountable for these missteps, and to resolve to make improvements. I must acknowledge the times when I have not been kind in my heart and mind, my tendencies to snap too quickly in moments of parenting frustration, various deficiencies in generosity, and all of the unsaid gentle words that could have made all the difference.
It is important to acknowledge these inadequacies, not in fear of a vengeful or judgmental repercussions, but so that we can recognize the human weakness in all of us and foster empathy. So that we can seek compassion from God and from ourselves for our weaknesses. So that we can hold ourselves to a higher standard of nonjudgmental kindness. So that we can do better and be better.
5.     Seeking forgiveness. A key component of Rosh Hashanah is not only the acknowledgement of our shortcomings, but also the seeking of forgiveness for our mistakes. Most important, perhaps, is that forgiveness is not sought from God alone, but from people that may have been hurt by our missteps. Teshuvah – the Jewish act of atonement – includes acknowledgement of one's mistakes, an act of contrition, and a genuine demonstration that one has learned from his or her mistakes.  
This is perhaps the most difficult task for me. Like the popular song by Chicago says, it is definitely "hard to say I'm sorry." Apologies go unsaid or they are laden with excuses. Denials are made so that I can justify my behavior. And I am certainly prone to making the same mistakes over and over again. But if I merely apologize for those times when I was quick to anger, failed to live up to expectations, or resorted to the use of hurtful passive-aggressive and snide remarks, and I continue to commit these errors, I have not shown sincere accountability for my mistakes.
So, like I said, the task of genuinely seeking forgiveness will not be an easy one for me, but it is perhaps one of the most important. Wish me luck.
L'Shanah Tovah, my friends! May you have a happy, healthy, and sweetly divine New Year.