I recently read that the city council of Naperville, a western suburb of Chicago, had approved the development of Naperville Family Building Center, a fertility clinic run by Dr. Randy Morris that will provide in-vitro fertilization (IVF) and other fertility treatments to couples struggling to realize their dream of raising a family.
Sadly, the approval of the Naperville fertility clinic was a fight not easily won.  The clinic has been vehemently opposed by the Pro-Life Action League, as this post explains.  IVF (a procedure in which an egg is fertilized outside the woman's body with the resulting embryo subsequently implanted into the woman's uterus) has become a contentious issue, with the Catholic Church opposing IVF entirely and much debate circulating around "personhood" laws adopted in many states.
Obviously, issues surrounding IVF and other fertility treatments are legally and morally complex.  There are many nuances, complications, exceptions, and gray areas, all of which are further complicated by the highly-charged emotions involved.  But, I can't help but wonder, do the opponents of the Naperville Family Building Center have any idea of the pain, frustration, and emotional rollercoaster that a couple feels when facing infertility?
Have they ever known the devastation of hearing from an ultrasound tech that there is no fetal heartbeat?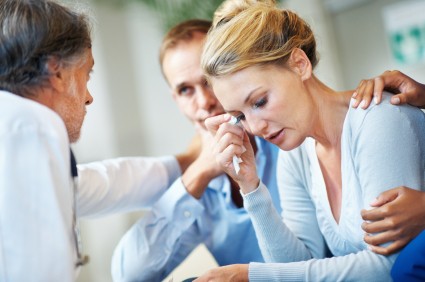 Have they ever known the sadness and helplessness felt when driving a woman home after she has undergone a D&C to remove the remnants of a dead fetus?
Have they ever known the emotional lows that a woman feels when, in the bathroom, she discovers that once again, this month, there would be no baby?
Have they ever known the pain of poking themselves with long syringes daily for several months on end in order to hormonally support a tenuous pregnancy?
Have they ever known the heartbreak of losing a pregnancy at 7 weeks?  At 10 weeks?  At 20 weeks?
Have they ever known the anger, frustration, and sadness that comes with being told that conception will be difficult if not impossible?
Have they ever known the emotional toll that infertility can have on a couple when all of the romance of conceiving a child is sucked out of the relationship and replaced with temperature charts, ovulation kits, tubes, needles, and injections?
And, have they ever known the indescribable joy and disbelief felt by a desperate couple who had lost all hope upon learning that conception has finally been achieved?
I truly doubt that they have ever known none of these emotions.  For if they had, they would not only not be opposing the development of the fertility clinic, but they would be offering the couples undergoing the treatments their wholehearted support, empathy, and compassion.
P.S. I owe a personal debt of gratitude to the compassionate nurses and doctors at Fertility Centers of Illinois who helped us through our fertility/miscarriage struggles and made the birth of our second son possible (although not through IVF).