Volunteering is the ultimate exercise in democracy.  You vote in elections once a year, but when you volunteer, you vote every day about the kind of community you want to live in.
~Author Unknown
This Sunday will kick off the start of National Volunteer Week, which runs from April 14-21, and in honor of volunteers everywhere, I am dedicating this blog post to two of the most dedicated, enthusiastic, selfless and devoted volunteers that I know – Phil and Beth Sass.
Not only are Phil and Beth my parents, but they have also acted as pseudo-parents to countless youth in their small, rural Wisconsin town as the volunteer coaches of the Berlin Barracuda Swim Team.
What started more than 25 years ago, when Phil agreed to step in as assistant coach for his daughters' swim team, has continued long past the departure of his youngest son from the team more than 10 years ago.  Under Phil and Beth's wing, the Berlin swim team went from a small and floundering group of swimmers to an absolute swimming sensation.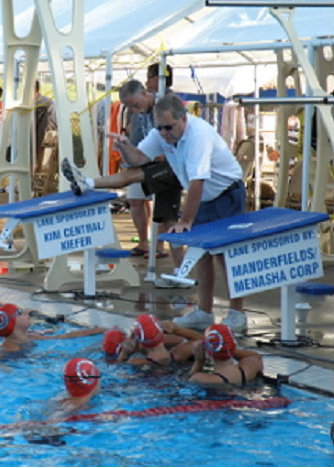 Many parents are coaches for their children's athletic teams, but Phil and Beth are not your average youth athletic team coaches.  Not only do they spend at least 20-30 hours a week coaching swimmers of all ages and endure weekend long swim meets, but they also whole-heartedly welcome these young, impressionable children into their hearts and minds.  All without a paycheck of any kind. 
They are not just coaches to the swimmers; they are mentors, advisers, providers, and friends.  They welcome the older swimmers into their home several mornings a week so that they have time for a healthy breakfast before school (if you know anything about swimming, you know that swimmers often have two-a-day practices).  They drive kids to swim meets when their own parents are unable to attend.  They tolerate teen angst, listening to their troubles with friends, parents, boyfriends and girlfriends.
They take children from a somewhat isolated, rural community and give them opportunity and structure.  They teach children how to tap into their physical strength by utilizing their mental strength.
Did I mention that their services, kindness, and mentorship are all on a completely volunteer basis?
Some might call Phil and Beth crazy for taking so much time away from their own personal lives and hobbies, time away from their extended family, time away from the business that they own.
Others (myself included) call them amazing, inspiring, and motivating.
The reasons for volunteering are plentiful and significant, as described in detail in this blog by the Hands On Network.  Volunteering increases self-esteem, boosts one's mood, provides perspective and framework for one's own stress and challenges, helps foster social connections, and can even help to advance one's career.
Many wonder why Phil and Beth continue to spend such a substantial amount of time coaching the local swim team on a volunteer basis even though their own children are no longer involved in the program, particularly given that they have myriad other obligations and personal hobbies.  In fact, even I – their daughter – have wondered this exact thing.  Out loud.  To their faces.
Why do you do it, I ask?  What is keeping you so attached and invested in an organization that your adult children have long since outgrown?
And their response?  It is simple, really.  They do it because they love it.  They do it because they are called to do it.  The joy that they receive from coaching and mentoring a group of youngsters is far outweighed by all of the negatives that may be involved with coaching (the time commitments and demanding parents, to name a few).
I suspect that their years spent volunteering with the Berlin swim team have been just as rewarding and inspiring to them, as they have been to the countless swimmers who have passed through the natatorium doors.  Phil has had the satisfaction of placing a state champion medal around several of the swimmers that he has coached.  They both have been invited to several weddings of former swimmers.  And, together, they have made lifelong friends throughout the state as a result of their volunteer coaching experiences.
They have seen desperate, lonely, and lost kids literally light up with excitement and disbelief when they achieve a goal that was set out for them.  They have seen beaming children race to them for a pat on the back after the completion of a hard-fought race, brimming over with pride.  And they have seen children who, because they were told that they could do something, began to believe that they could be something.
Volunteers of all kinds have the power to make meaningful changes within their community, and the world as a whole.  Could there be a greater satisfaction than knowing that you have somehow, in some way, made the world a better place?
You may say, "I don't have the time."  You may say, "I don't know where to start."
But in the words of Elizabeth Andrew, "Volunteers do not necessarily have the time; they just have the heart."  If you have the heart, you will find the time, and you will find a place to start.
Here are helpful links to get you started:
My Favorite Charities
Volunteer Match
Hands On Network
Skills-based volunteering
Volunteer opportunities in your area
Volunteer time calculator
Chicago Cares
Tell me about some of the awesome volunteers that you know. Who is making a difference in your community?  What organizations do you support?