I am speechless.  I am utterly speechless. For a writer that typically presents a whole host of problems, but in this case, I am humbly rendered speechless – in the best of ways.
This morning, upon checking the emails and Facebook updates on my iPhone, I learned that I had won an award. Yes, me! I had won an award!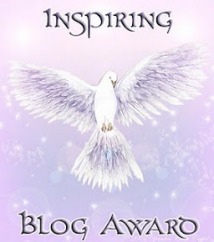 Was I showered with cash prizes? Nope. Did I win a free trip to Europe? No again. Would I be launched into a world of fame and notoriety? Hardly.
I was, however, the lucky and proud recipient of the Inspiring Blog Award. Me? Inspiring? Like I said, I am speechless. In fact, I've read through the awarding post several times already just to make sure that she did, in fact, name me.
The award and its origins are somewhat ambiguous, but the guidelines for the award are clear: (1) thank the one who gave it to you, with a link back to his or her blog; (2) list some things about yourself that people wouldn't know from reading your blog; and (3) nominate another blog (or more).
While the first guideline seems pretty straightforward, a simple "thank you" does not seem to do justice to what Lisa, who gave me the award, has done for me. As the tongue-in-cheek name of her blog – This Will Be On the Parenting Test – suggests, she blogs about parenting. As the mom of two teenage boys, she is a constant source of inspiration and guidance on what it takes to raise two boys who you hope will become responsible, authentic, mindful, and happy men. But she also writes about universally applicable topics like confidence, fear, making peace with the past, and moving forward. Not only has Lisa been a parenting mentor for me, but she has also been a religious/spiritual mentor to me since we met more than five years ago. She exemplifies what it means to live a life filled with authentic hospitality. Through the year, she has been a patient teacher, fervent cheerleader, thoughtful mentor, astute editor, and supportive friend. So, while the words don't do the emotion justice, thank you, Lisa. From the bottom of my heart.
The second criteria (list some things you don't know about me from reading my blog) is a bit trickier since there is little that I shy away from writing on my blog, but here are a few tidbits: I twirl my hair incessantly; my college friends call me Sassypants; and I have a bifurcated uvula (that's a fancy way of saying, I have two of those things that hang at the back of your throat).
And, finally, I pass the award on to Stephanie at People Do Things with Their Lives. I have only known Stephanie for a few months and we have never met in person, but she is a constant source of inspiration to me. She writes about socially aware topics by drawing the reader into her story and sending forth a positive message. She has also been a strong supporter of my own writing, frequently commenting in a personal and meaningful way. She truly understands the importance of support and community, especially for a new blogger. Thank you, Steph. The torch is passed to you.