We're moving into the season of the two G's — gratitude and giving — and I recently read two articles that, separately, talked about both. The first, an op-ed in The New York Times, discussed the benefits of giving thanks even if we aren't feeling very grateful. "For many people, gratitude is difficult, because life is difficult," Arthur Brooks wrote. "But we are more than slaves to our feelings, circumstances and genes. Evidence suggests that we can actively choose to practice gratitude — and that doing so raises our happiness…To be thankful, simply give thanks."
The other article – also in The New York Times – suggests that to teach our children to give, we should talk to them about all that the family has been given. Tell a child about the meals people brought after he was born. Tell children about the financial contributions grandparents made to a parent's education. Tell stories about the friends who visited when a parent was sick in the hospital.
Reading these two articles, I was struck by the similarities between the concepts of giving and of gratitude. Could it be that in the process of sharing the stories of help we received we aren't just teaching our children the importance of giving, but teaching ourselves, in the process, to practice gratitude?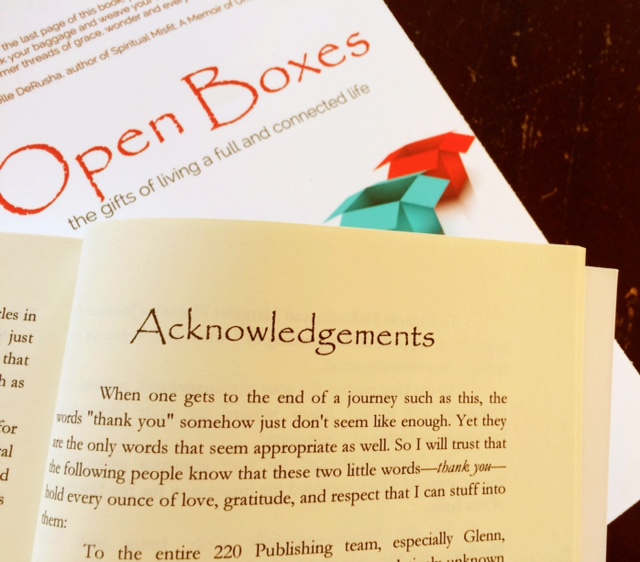 A year ago today, I published a book. It was one of the wildest rides I have ever been on. And the simple truth is that I could not have done it without a lot of help given from to me from a lot of people. Maybe that's why writing the acknowledgements section was, in some ways, harder than writing the book. How does one properly thank people who laid down bricks on the path to a dream?
But the help I was given didn't stop after publication. There was the help given by people who shared the Amazon link on Facebook. Help from people who bought a copy of the book. Help from people who bought more than one copy and gave the book as a gift. Help from people who left reviews on Amazon and Barnes & Noble. Help from people who made calls to see if the local bookstore would carry a copy on their shelves. Help from people who read the book and reviewed it on their website. Help from my publisher in organizing book events and signings. Help from my family who talk about the book whenever they can to whoever will listen. Help from my children who patiently wait while I finish writing this blog post. And help from my husband who, well, has helped so many more ways than I could possibly list in a blog post.
I have been given much, helped much.
And I am grateful. Profoundly grateful.
Maybe that is why I continue to write. With each story told, I am teaching myself to practice gratitude and each word written is my way of making an offering of thanks at the altar of humanity.
*********************
I'm not just giving thanks, however, I'm also giving away two signed copies of Open Boxes. Just leave a comment here or on Facebook letting me know you want to be entered in the drawing. The winner will be chosen on December 1, 2015 at 5:00 CST.